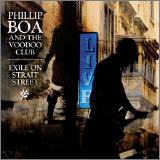 Tracklisting
01. Atlantic Claire
02. I Dedicate My Soul To You
03. Euphoria
04. Valerian
05. Sleeper
06. Rome In The Rain
07. Love On Sale
08. In Freudian Underwear
09. Albert Is A Headbanger
10. This Is Michael
11. Diana
12. Fine Art In Silver
13. Diamonds Fall
14. Moon
15. Annie Flies The Lovebomber
16. And Then She Kissed Her
17. Kill Your Ideals

Edles Digipak, 17 Tracks, über 70 Minuten Spieldauer
1:1 Authentic Live Recording! No overdubs in the studio, just mixing. Recorded in Duesseldorf, Berlin, Zwickau and Leipzig. Mixed in Malta, Temple Studios 1 by David Vella, springtime 2010.
Mastered by Eroc. Photographer Bart E. Streefkerk. Designer & artwork Jochen Nuyken.
Produced by David Vella and Phillip Boa for Constrictor Productions.